Alumina Ceramic - Aluminum Oxide
What We Do
Physical Properties Of Associated Ceramics Alumina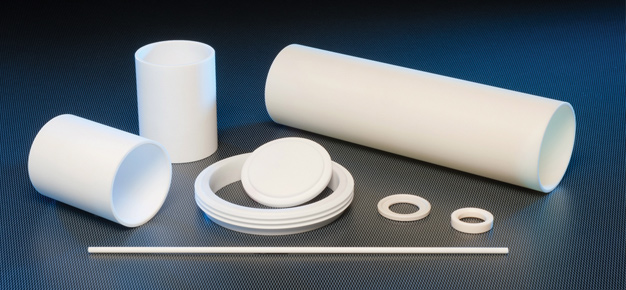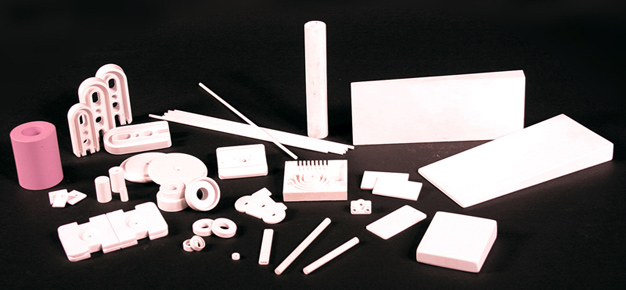 Modern alumina (Al2O3) products are among the strongest and hardest of all ceramic materials. They also have a high dielectric strength, and at elevated temperatures such as those encountered in many applications, their electrical resistance is excellent. Alumina ceramics also feature very high mechanical strength, high thermal conductivity, and high resistance to chemical and corrosion attack at room and elevated temperatures. Further, this valuable class of materials can be made extremely hard - second only to diamond on the Mohs' scales for resistance to wear and abrasion.
Many of alumina's outstanding properties can be enhanced through variations in manufacturing methods and in chemistry. Associated Ceramics has earned a reputation for achieving dimensionally accurate alumina parts with excellent quality and reproducibility. The following table describes many common alumina bodies; we can work with other formulations as well.
Table converts to a left/right scrolling table when viewed on mobile devices or smaller screens.
ACT Material
Code >
AC-AL1090
AC-AL850
AC-AL900
AC-AL920
AC-AL940
AC-AL960
AC-AL980
AC-AL8020
AC-AL998
AC-ZTA
Description >
80%
85%
90%
92%
95%
96%
98%
99.5%
99.80%
Zirconia Toughened Alumina
Color
-
White
White
White
White
White
White
White
Ivory
Ivory
White
Density
g/cc
3.40-3.45
3.45-3.50
3.55-3.60
3.60-3.65
3.70-3.75
3.70-3.75
3.75-3.80
3.75-3.85
3.90-3.95
4.00-4.05
Porosity
%
0-1
0-1
0-1
0-1
0-1
0-1
0-1
0-1
0-1
0-1
Flexural
Strength
psi (MPa)
40,000 (276)
42,000 (290)
45,000 (310)
47,000 (324)
48,000 (331)
50,000 (345)
52,000 (358)
50,000 (345)
54,000 (372)
60,000 (414)
Compressive
Strength
psi (Mpa)
260,000 (1,792)
280,000 (1,930)
300,000 (2,068)
350,000 (2,413)
350,000 (2,413)
350,000 (2,413)
350,000 (2,413)
350,000 (2,413)
350,000 (2,413)
350,000 (2,413)
Tensile
Strength
psi (MPa)
21,000 (145)
22,000 (152)
30,000 (205)
32,000 (221)
30,000 (205)
32,000 (221)
35,000 (241)
32,000 (221)
40,000 (276)
42,000 (290)
Elastic
Modulus

psi x 106 (GPa)
32 (221)
32 (221)
40 (275)
42 (290)
44 (303)
44 (305)
50 (345)
50 (345)
54 (372)
50 (345)
Fracture
Toughness
MPa/m
3-4
3-4
4-5
4-5
4-5
4-5
4-5
4-5
4-5
4-5
Dielectric
Strength
Volts/mil
250
250
210
210
210
210
220
210
220
210
Dielectric
Loss Tangent
@ 1 MHz
0.0004
0.0004
0.0004
0.0001
0.0001
0.0001
0.0001
0.0001
0.0001
0.0005
Thermal
Conductivity
W/m°K
16.0
16.0
17.0
20.0
22.0
22.5
27.0
27.0
30.0
27.0
Coefficient
Of Thermal
Expansion
1 x 10-6/&degC
7
7
8
8
8
8
8
8
8
8
Safe Use
Temperature
°F
°C
2400
1315
2600
1425
2700
1480
2850
1565
3000
1650
3000
1650
3100
1700
3200
1750
3100
1700
2700
1480
Quick Contact